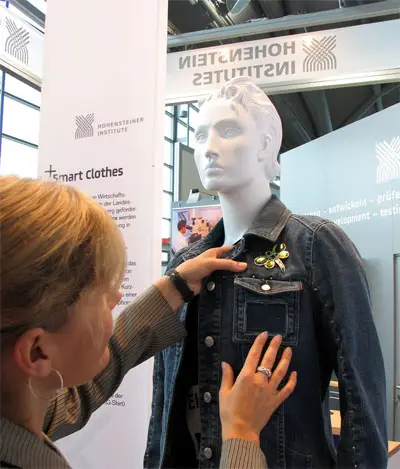 It turns out the German Hohenstein Institute is working for some time on a project called 'Solartex' to explore the usability of solar cells in clothing.
On the upcoming Avantex, a International Forum for Innovative Apparel Textiles in Germany held from 10 to 12 June, the Hohenstein Institute will present a Jeans jacket with integrated solar cells to power electronic devices like MP3 player or cell phones.
The Hohenstein Institute optimized flexible solar panels and connection elements to fulfill all aspects and requirements of garments. The optimized solar panels and connections are mechanical robust to the extend that this Jeans Jacket can be washed in a conventional household washing machine without removing the solar panel or connector.
High attention was paid in view of manufactuerability of the seamless integration of the solar technology to ensure that this and similar Solar Jackets can be produced in quantities. This let us hope to see very soon 'every-day-jackets' with solar power generation capabilities.
You might think the energy output of such a small panel can not be that high, you might be right but being able to extend just a little bit the play time or talking time of your cell phone 'free of charge' is not bad either – right?
If you visit the Avantex 2007, you can find the sun capturing Jeans Jacket in hall 3.1 booth A23.