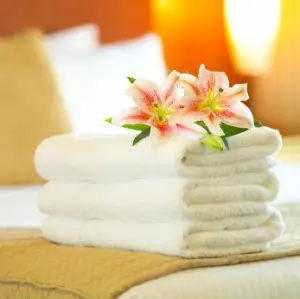 Stealing hotel towels is a rite of passage for travelers, right? Well those days may long be over. Hotels are starting to take towel theft seriously. How serious are they? Certain chains have begun implanting specially designed RFID chips in towels. Really? Really.
The chips, designed by Miami-based Linen Technology Tracking, can be sewn directly into towels, bathrobes or bed sheets. These chips can also withstand over 300 washes. What do they do? If you try to leave the hotel premises with said towels or bed spreads, an alarm will go off. Â You will be humiliated and may even cry. It will be a bad scene all around.
This isn't widespread yet, but one Honolulu hotel has reported saving $15,000 in stolen linens thanks to the devices. Since then, hotels in Miami and Manhattan have followed suit. What's next guys?! Soap?!