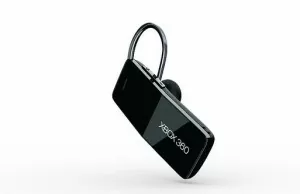 You like video games. Who doesn't?! Microsoft knows this and with that spirit in mind have readied their Xbox 360 Bluetooth headset. The headset does exactly what the name implies, it's a Bluetooth-enabled headset for use with the Xbox 360 video game system. But, wait, there's more.
Also notice the business casual look. This is the perfect Bluetooth headset for gaming in the office. Everyone will think you are on an important call with Joe Simmons over in accounting. They'll have no idea you are on an important adventure with "DevilNewb58" over in Halo.
The headset goes on sale this November at a suggested price of $60. Until then you are going to have to risk it at the office with a regular old non-Bluetooth headset. Don't get fired! It's tough out there.