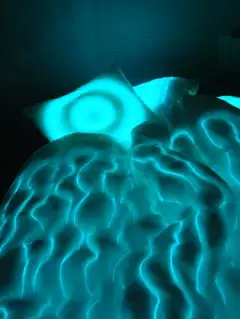 Light Sleeper is an illuminating, personalized alarm integrated into bedding that gently wakes in the most natural way. Ever since the beginning of time light has controlled our body clock telling us when to sleep and when to wake.The northern hemisphere is almost through the winter season which naturally means all those folks are deprived of sunlight or light in general. Daylight can be as short as 6 hours or even less.
The LightSleeper, an invention of Loop.pH, a group that specializes in the design and research of environmentally responsive textiles, can ease the pain for everyone short of light exposure or hard to get out of bed every morning.
As lifestyles are rapidly changing with increased travel and demands on our time, people's natural body clocks are out of sync. This pillow and duvet simulates a natural dawn that eases you into your day. LightSleeper Bedding uses electroluminescent technology allowing traditional textile surfaces to become a reactive light source.
That makes it a 'must-have' for us – don't you think so?
Our body clock responds to an imitation sunrise by accelerating the wake-up processes. Research indicates that it is important that the light comes on gradually and that having a light on an on/off time switch will not have the same effect, this is why light sleeper bedding gradually begins to glow in a natural breathing rhythm over a 15-20 minute period.
A very interesting concept that might become reality soon. Loop.pH has the skills to design, construct and to fabricate structural and responsive textiles. They also conduct an extensive range of research activities and collaborate with the industry. Some items of their portfolio are available to commission for both private and commercial clients.
This last statement let us lazy bones hope to get wake-up help from our gradually illuminated duvet in near future.