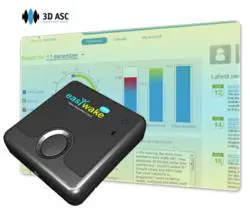 Sleeping can be the ultimate release for some. Still, for others it can be a source of stress. Insomnia aint no game, people. With this in mind, Dreamtrap(kind of a scary name) have unveiled their EASYWAKEme sleep monitor system.
The EASYWAKEme Sleep Stage Alarm Clock monitoring system is one intelligent alarm clock. How intelligent? It knows to wake you only when you are in the right sleep zone. This ends up cutting down on fatigue and ends up helping you sleep better at night. It works by using proprietary 3D Adaptive Sleep Capture (3D ASC) technology. You simply strap on a wearable sensor, set what time you'd like to wake up, and it's on. Note, the time you put in is not exact. The system will wake you up near the time, based on where your body is at. It will never be more than a handful of minutes before or after, so don't worry if you are one to be constantly late.
The monitor system will go on sale in July and will cost around $150. Come on. You owe it yourself to you, don't you?