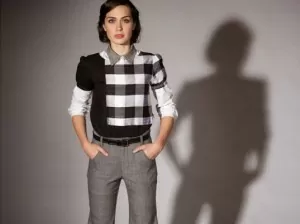 There is lots of cool fashion out there, but much of it comes with the accessibility of Lego blocks? Carrie Parry's new line of modular eco-fashion purports to do just that.
Her debut collection, codenamed "Mrs. Montague," is an interesting concept. Each and every piece was designed with interchangeability in mind. Mixing and matching is the name of the game here, like a puzzle. Bows, cuffs, and collars can be added or subtracted at will to make some cool, and personal, looks.
On the eco-friendly tip, an array of related textiles were used in the creation of line. These ranged from organic cotton, cupro, recycled polyester and more. Carrie Parry will be kicking off Bloomingdale's Earth Day celebrations with a show featuring the designs at its SoHo location from April 14 to 17.