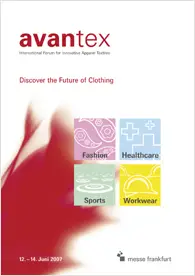 Avantex and Techtextil 2007 will open its doors on June 11 for 4 days of highly interesting seminars and exhibitions on the future of clothing and textile innovation.
It is the second time those two events are held at the same time and the same place. Avantex target groups of designers and garment manufacturers, focuses on high-tech apparel textiles and presents developments ranging from the concept to the prototype stages. Techtextil is the world largest Trade Fair for Technical Textiles and Nonwovens.
This almost guaranties a highly charged atmosphere for participants from the industry and businesses but also for the visitors of the exhibitions.
Unlike the Smart Fabrics 2007 in May which was more focused on technologies, the Avantex 2007 is more about consumer presentation. Companies will show on the floor the latest developments and creation in the Smart Clothing areas like Fashion, Healthcare, Sports and Workwear.
or the professionals, the many symposiums offer a wide range of interesting lectures and presentations for suppliers, users and experts from the entire textile and clothing industry.
The big names in Wearable Electronic will show the latest products and technological advancements. Companies like Eleksen, Interactive Wear, Fibretronic and Cute Circuit to name a few.
If you can come to Frankfurt, you will be rewarded with lot of interesting news out of the world of Wearable Electronic – the Future of Clothing.